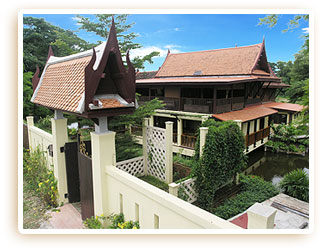 Luang Chumni Village is a unique guesthouse comprised of traditional Thai-style homes and is located serenely in the central island of Phra Nakhon Si Ayutthaya. It is only a short walk away from the many historical sites, National Museum,
and the Ayutthaya Tourist Information Center
(TAT-Ayutthaya Office).
Our bed & breakfast accommodation consists of 6 guest rooms. Each room is furnished in traditional style and has a double bed, television, mini-fridge, and wardrobe. Outside of your room is a private balcony with a view of our moat and bridges. Your private bathroom is located downstairs, where you can enjoy shower with hot water.
Our fellow guests are impressed with Luang Chumni Village as their ideal place to indulge in Thai-style living while spending their days in the historical city of Phra Nakhon Si Ayutthaya. Please come visit us and you will be amazed too!!